European & Italian researchers achieve fusion energy record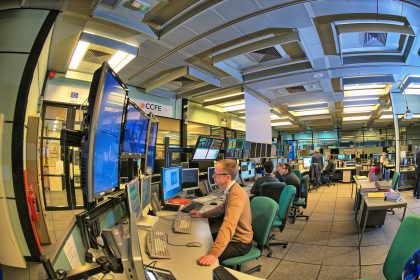 Landmark results from EUROfusion scientists and engineers at world-leading Joint European Torus (JET) facility in Oxford, UK
Record-breaking 59 megajoules of sustained fusion energy demonstrates potential of fusion
Results fully in line with predictions, strengthening the case for ITER
Fusion energy can provide a safe, efficient and low-carbon energy supply
Record results announced today are the clearest demonstration in a quarter of a century of the potential for fusion energy to deliver safe and sustainable low-carbon energy.
Researchers from the EUROfusion consortium – 4,800 experts, students and staff from across Europe, co-funded by the European Commission and including Italian researchers – used the Joint European Torus (JET) device to release a record 59 megajoules of sustained fusion energy.
This achievement on JET, the largest and most powerful operational tokamak in the world at the UK Atomic Energy Authority (UKAEA) site in Oxford, more than doubles the previous fusion energy record of 21.7 megajoules set there in 1997. It comes as part of a dedicated experimental campaign designed by EUROfusion to test over two decades' worth of advances in fusion and optimally prepare for the start of the international ITER project.
The record and the scientific data from these crucial experiments are a major boost for ITER, the larger and more advanced version of JET. ITER is a fusion research project based in the south of France. Supported by seven members – China, the European Union, India, Japan, South Korea, Russia and the USA – ITER aims to demonstrate the scientific and technological feasibility of fusion energy.
As pressures mount to address the effects of climate change through decarbonising energy production, this success is a major step forward on fusion's roadmap as a safe, efficient, low carbon means of tackling the global energy crisis.
Fusion energy's potential
Fusion, the process that powers stars like our sun, promises a near-limitless clean electricity source for the long term, using small amounts of fuel that can be sourced worldwide from inexpensive materials. The fusion process brings together atoms of light elements like hydrogen at high temperatures to form helium and release tremendous energy as heat. Fusion is inherently safe in that it cannot start a run-away process.
FuJET of unique importance
The Joint European Torus (JET) fusion experiment – which can create plasmas reaching temperatures of 150 million degrees Celsius, 10 times hotter than the centre of the sun – is a vital test bed for ITER, one of the biggest collaborative science projects in history. JET can reach conditions similar to those in ITER and future fusion power
A European undertaking
JET was built and operated in Culham, UK, as a Joint Undertaking of the European Community since 1977. The facility has been operated by the UKAEA from 2000. The Euratom Research and Training programme has continuously contributed approx. 80% of the JET operation costs from 1977 until the end of 2021.
Megajoules and Megawatts explained
In its recent record-breaking experiment, JET produced a total of 59 Megajoules of heat energy from fusion over a five second period (the duration of the fusion experiment). During this experiment, JET averaged a fusion power (i.e., energy per second) of around 11 Megawatts (Megajoules per second).
The previous energy record from a fusion experiment, achieved by JET in 1997, was 22 megajoules of heat energy. The peak power of 16MW achieved briefly in 1997 has not been surpassed in recent experiments, as the focus has been on sustained fusion energy.